1. Upload photos

2. Create collage

3. Order

---
Choose your template
---
Tip: We also offer collages with a text option, so your heart photo collage can be a message of love.
---
---
Over 250 templates for free
---
Tip: Place your most important photo centrally. This makes it stand out more in your heart collage.
---
Use a heart as a collage for deeply touching photos
Did you know that the heart shape originally came from stylised representations of ivy leaves? Since ivy is a very long-lived plant, the ivy leaf and therefore later also the heart was considered a symbol of eternal love. Today, we often encounter the heart as an emoji with which we express our affection digitally. However, if you want to go that extra mile with a love message for a special occasion, you can use our heart as a collage. Give the people in your life a little more of your heart - with a carefully compiled collage
A photo collage with heart for very special people
Although all our photo collages are perfect for special occasions and gifts, the heart collage in particular simply brings a lot of emotion. As a gift, it is therefore suitable for people with whom you have an intimate, familiar and close relationship. This can be your partner of course, but also any other person to whom you are close. After all, our siblings, parents or grandparents deserve a special place in our lives and therefore also their own photo collage with heart.
A photo collage with a heart is also a token of love for children, adolescents and grown-up children. As a mother or father, you often find it much easier to find good photo material with pictures accumulating over the years. If you want to make your heart-shaped collage as a birthday present, you can even incorporate photos of the different stages of your child's development.
However, most people who want to create a heart collage do so as a gift to their partner. Since the heart symbol is so closely linked to romantic love, many different levels of meaning unfold here. This playful photo gift is suitable for wedding or first-date anniversaries, for example, as well as birthdays or as a loving token for Valentine's Day.
Create your own heart collage: keep this in mind
The first step in creating a heart collage is always to choose a suitable template. Depending on how many photos you have and what kind of look your heart collage should have, you can choose between 5 different heart designs, one of which even has a black and white effect. Once you have decided on a heart design, you will be forwarded to the collage tool. This is where you can now upload your photos. The best way to do this is to use the file formats JPG or PNG. Maximum file size is 50 MB.
Alternatively, you can click directly through to the blank template and manually insert, arrange and change the images. Once you have loaded your collage with enough pictures, you will be able to see under "Preview" what your masterpiece looks like now. If you're not quite happy, you can simply continue using the tool to make changes and rearrange your images.
In addition to the arrangement of the individual images and the preview, you can also select your background colour here. There are 16 basic colours to choose from. You can also set a black and white effect for the heart collage.
Good tip for newcomers: If you notice after starting the process that you don't have enough individual photos, you can simply upload some pictures twice. It is then best to make sure that they are randomly distributed in the grid. Not only is this a good trick in an emergency, but also adds a cool memory effect to the larger heart collage and the double heart collage.
Here's how to guarantee a perfect photo collage in heart form every time!
Match the photos and template: Since the heart-shape collage already looks very playful due to its contours, you should try to add in some harmony when choosing your pictures. The best way to do this is to take full-frame photos with little detail in the image space. If, on the other hand, you want to use dynamic and lively photographs and give the heart collage to your partner, you can use our angular collage template with the heart in the middle.
Due to its clear edges, it looks much more structured than the softer, curved heart shapes.
Put favourites in the spotlight: Do you have one or maybe even several shots that are especially important for the statement you want your heart collage to make? Then you should arrange them in the centre of the heart shape. This is important so that the viewer's gaze falls immediately on it. Plus you can make sure this way that your favourite pictures don't get cut off at the top, which happens automatically to the edge photos because of the shape of the heart collage.
Choose background colour carefully: Although you can choose between 16 different background colours in the collage tool, you shouldn't get overwhelmed. Especially if you want your photos to be printed in colour, a bright background can direct the focus away from the images. When hung, these bright heart collages often look a little crowded. It is therefore best to choose a clear, reduced background in black, white or grey.
Use black and white filters: Although coloured photographs look wonderfully lively and spontaneous, especially for photo gifts, the use of our black-and-white filter can also set exciting accents. In black and white, the delicate heart collage looks much more elegant and somehow more dramatic, allowing you to give romantic and sentimental motifs just the right twist!
Here's how to guarantee a perfect photo collage in heart form every time!
For the playful heart-shaped collage you have the possibility to have a print made on canvas. Especially if you have planned your new photo artwork as decoration for your apartment or want to give it to someone a special gift, this is the perfect choice.
Canvas has been one of the most stylish mediums for printing since the beginning of photography and brings a real gallery feeling to your home with its artistic touch!
---
---
Customer reviews
Liv
Review in Morpeth
Product: Collage Verified purchase
Absolutely fab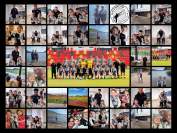 Valerie S.
Review in Nr Clitheroe
Product: Collage Verified purchase
excellent product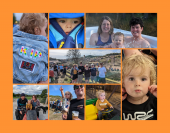 ---
Paul
Review in St Albans
Product: Collage Verified purchase
Excellent product, looks great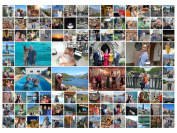 Jean
Review in Swansea
Product: Collage Verified purchase
The quality is superb, far better than similar ones I have seen. Precious memories captured forever in a unique way that is classy and top- drawer.

---
---
---
Further information
Collage Infos
Price
Delivery times
Information on the photo collage
More than 250 collage templates
Add custom text
2 to 100 photos in one collage
Print size up to 160 x 120 cm
Delivery in 48 hours
---
Available on the following products:
Canvas
Arylic glass
Alu-Dibond
Poster
Size
Canvas print
Acrylic glass
Alu-Dibond
Poster

XS

20 x 20 cm
£19.00
£19.00
£19.00
-

XS

30 x 20 cm
£39.00
£39.00
£39.00
£17.90

XS

30 x 30 cm
-
-
-
£19.90

XS

40 x 20 cm
£39.00
-
-
£19.90

XS

40 x 30 cm
£49.00
£49.00
£49.00
£19.90

XS

40 x 40 cm
-
£59.00
£59.00
£21.90

XS

45 x 30 cm
-
£59.00
£59.00
-

S

50 x 50 cm
£69.00
-
-
£24.90

S

60 x 20 cm
£49.00
-
-
£19.90

S

60 x 30 cm
£59.00
-
-
£19.90

S

60 x 40 cm
£69.00
£79.00
£79.00
£21.90

S

60 x 45 cm
£69.00
£79.00
£69.00
£23.90

S

60 x 60 cm
-
£89.00
£89.00
-

S

80 x 20 cm
£62.00
-
-
£19.90

S

80 x 40 cm
£74.00
-
-
£27.90

M

80 x 60 cm
£79.00
£89.00
£89.00
£36.90

M

80 x 80 cm
£89.00
£109.00
£109.00
£52.90

S

90 x 30 cm
£69.00
-
-
£26.90

M

90 x 60 cm
£89.00
£99.00
£99.00
£40.90

M

100 x 25 cm
£69.00
-
-
£26.90

M

100 x 50 cm
£87.00
-
-
£40.90

M

100 x 75 cm
£109.00
£179.00
£292.00
£53.90

L

100 x 100 cm
£119.00
£139.00
£139.00
£68.90

M

105 x 70 cm
£110.00
-
-
£50.90

M

120 x 30 cm
£77.00
-
-
£32.90

M

120 x 40 cm
£89.00
-
-
£35.90

M

120 x 60 cm
£103.00
-
-
£51.90

L

120 x 80 cm
£119.00
£149.00
£149.00
£74.90

L

120 x 90 cm
£119.00
£149.00
£149.00
£77.90

L

120 x 120 cm
£139.00
-
-
-

M

125 x 25 cm
£74.00
-
-
£29.90

M

140 x 35 cm
£89.00
-
-
£42.90

M

150 x 30 cm
£69.00
-
-
£38.90

L

150 x 50 cm
£105.00
-
-
£55.90

XL

150 x 100 cm
-
£309.00
-
-

M

160 x 30 cm
£85.00
-
-
-

L

160 x 40 cm
£97.00
-
-
£54.90

XL

160 x 120 cm
£169.00
-
-
-

L

175 x 35 cm
£99.00
-
-
£52.90

XL

180 x 60 cm
£129.00
-
-
£69.90

XL

200 x 40 cm
£109.00
-
-
£60.90

XL

200 x 50 cm
£119.00
-
-
£71.90

XL

210 x 70 cm
£149.00
-
-
-
When will your canvas be delivered:
TODAYOrder
now

Next Day*
EXPRESSdelivery
guaranteed

PRIO**delivery
expected

STANDARDdelivery
expected

Mon
Tue
Wed
Thurs
Fri
Sat
Sun
Mon
Tue
Wed
05
Dec.
06
Dec.
07
Dec.
08
Dec.
09
Dec.
10
Dec.
11
Dec.
12
Dec.
13
Dec.
14
Dec.
Order weekdays until 11 a.m.:
* Guaranteed delivery next working day
** Prioritised production and standard delivery
We deliver with:
---
Shipping to
| | Size | Next Day EXPRESS Upgrade | PRIO Upgrade | Delivery |
| --- | --- | --- | --- | --- |
| XS | 20 x 20 cm | £69.95 | £5.95 | £22.95 |
| XS | 30 x 20 cm | £69.95 | £5.95 | £22.95 |
| XS | 30 x 30 cm | £69.95 | £5.95 | £22.95 |
| XS | 40 x 20 cm | £69.95 | £5.95 | £22.95 |
| XS | 40 x 30 cm | £69.95 | £5.95 | £22.95 |
| XS | 40 x 40 cm | £69.95 | £5.95 | £22.95 |
| XS | 45 x 30 cm | £69.95 | £5.95 | £22.95 |
| S | 50 x 50 cm | £74.95 | £7.95 | £15.95 |
| S | 60 x 20 cm | £74.95 | £7.95 | £15.95 |
| S | 60 x 30 cm | £74.95 | £7.95 | £15.95 |
| S | 60 x 40 cm | £74.95 | £7.95 | £15.95 |
| S | 60 x 45 cm | £74.95 | £7.95 | £15.95 |
| S | 60 x 60 cm | £74.95 | £7.95 | £15.95 |
| S | 80 x 20 cm | £74.95 | £7.95 | £15.95 |
| S | 80 x 40 cm | £74.95 | £7.95 | £15.95 |
| M | 80 x 60 cm | £74.95 | £7.95 | £15.95 |
| M | 80 x 80 cm | £79.95 | £9.95 | £19.95 |
| S | 90 x 30 cm | £79.95 | £9.95 | £19.95 |
| M | 90 x 60 cm | £79.95 | £9.95 | £19.95 |
| M | 100 x 25 cm | £79.95 | £9.95 | £19.95 |
| M | 100 x 50 cm | £79.95 | £9.95 | £19.95 |
| M | 100 x 75 cm | £79.95 | £9.95 | £19.95 |
| L | 100 x 100 cm | £95.95 | £12.95 | £19.95 |
| M | 105 x 70 cm | £95.95 | £12.95 | £19.95 |
| M | 120 x 30 cm | £95.95 | £12.95 | £19.95 |
| M | 120 x 40 cm | £95.95 | £12.95 | £19.95 |
| M | 120 x 60 cm | £95.95 | £12.95 | £19.95 |
| L | 120 x 80 cm | £95.95 | £12.95 | £19.95 |
| L | 120 x 90 cm | £95.95 | £12.95 | £19.95 |
| L | 120 x 120 cm | - | £12.95 | £29.95 |
| M | 125 x 25 cm | - | £12.95 | £29.95 |
| M | 140 x 35 cm | - | £12.95 | £29.95 |
| M | 150 x 30 cm | - | £12.95 | £29.95 |
| L | 150 x 50 cm | - | £12.95 | £29.95 |
| XL | 150 x 100 cm | - | £12.95 | £29.95 |
| M | 160 x 30 cm | - | £12.95 | £29.95 |
| L | 160 x 40 cm | - | £12.95 | £29.95 |
| XL | 160 x 120 cm | - | £12.95 | £29.95 |
| L | 175 x 35 cm | - | £12.95 | £29.95 |
| XL | 180 x 60 cm | - | £12.95 | £29.95 |
| XL | 200 x 40 cm | - | £12.95 | £49.95 |
| XL | 200 x 50 cm | - | £12.95 | £49.95 |
| XL | 210 x 70 cm | - | £12.95 | £29.95 |

Shipping discount from 2nd product of same size
All Delivery times
---
---
This might also interest you