1. Upload photos

2. Create collage

3. Order

---
Create a custom name collage
---
---
Create collage
---
Tip: Individually customise each single photo letter!
---
---
---
Create collage
---
Tip: You can also add special characters such as &, !, + und <3 into our letter collage!
---
The letter collage: Versatile, personal and original
The letters collage is one of the more refined photo collages. The photos used are grouped into the shape of letters to then form a word. Thus, you can create a collage that is twice as personalised: for one, you're selecting all the photos yourself and for another the resulting word is your own choice.That's why the letter collage is also the perfect gift.
Whether it's a name, nickname, holiday destination, anniversary or message of congratulations - a collage made of letters leaves plenty of room for creativity. Your photo gift becomes something very special when you put together the photos for each individual letter individually.
Collage with letters as a gift idea
Because of its unique design possibilities, the collage with letters is one of the most creative and personal photo gifts. It's great as a birthday or wedding present but can also be a romantic token or a Christmas gift.
Your letter collage will be most beautiful when you capture an emotional experience in it. This can be a family celebration, a wedding or simply a weekend getaway together. Especially if you know the recipient well, you can take full advantage of the creative freedom of your letter collage.
For example, if you know that your girlfriend loves black and white photography and has a very minimalist furnishing style, you can design your collage to fit perfectly. If you want to gift your photo collage for a specific occasion, you should make sure that this is reflected in the choice of letters and of photos.
Especially practical as a gift: Under the collage itself, there is additional space for text. So if you want to use the name of the recipient as the basis for your photo collage, you will still have enough room to write "Happy Birthday" or "Happy anniversary", so you aren't restricted to just a few letters for your full message.
Creating a letter collage – this is what you need to bear in mind
If you want to create a letter collage, you should consider in particular the number of photos in relation to the number of letters. However, if you have a few photos at hand to start off with, you can just experiment a bit with our collage tool. This allows you to rearrange your photos within the letters again and again until you are satisfied.
Also very practical: The tool helps you to choose the right image size. If you drag your pictures into the collage area, a green or red smiley face will tell you if the photo fits.
As with all collages, you can follow some basic rules with the letter collage. The most important thing is to create a consistent and coherent overall picture. This is best achieved when you put your photos together roughly by theme, quality, colour and frame size beforehand.
You should be stricter with the colours of your letter collage: if the colours in the photos used are very mixed, you risk your collage looking too crowded and incohesive. Although it may seem original at first to combine a lot of different colours, this will look busy in the end when you go to hang it. Just as important as the colours is also a consistent quality of the photos used.
Clear and easily recognisable image content is much better suited than blurred or abstract photographs.
In order to keep your letter collage as homogeneous as possible, you should also use full-frame images. Detailed and small-scale motifs with many different people, objects or colours, on the other hand, are less suitable for letter collages. You should also refrain from ironic gimmicks such as different photos themes for different letters. This may seem funny and clever at first, but it often looks rather chaotic when hung on the wall.
For your letter collage you will also have the choice between different backgrounds and text colours. Here you can orientate yourself towards the preferences of the recipient. In most cases, clear and simple colours that are very different from the colours in the photos are ideal. This way, you'll have a beautiful and structured result and at the same time allow the recipient maximum freedom when it comes to hanging their collage.
Tip for word wizards: You can even include special characters like &, ! , + and <3 in your letter collage design! Especially with humorous or emotional messages, a little wink is a nice touch.
Gifting a letter collage: 4 ideas for inspiration
1. Photo collage made of letters as a Christmas gift: It's Christmas time again... and we need great gift ideas! Avoid shopping stress and falling into that "socks or gift voucher" trap by trying something different this year with a beautiful letter collage. It's totally up to you whether you want to use seasonal photos from the last Christmas party or simply other beautiful memories from the past year as a basis.
2. Letter collage for birthdays: The letter collage is also perfect as a birthday gift for friends and family. It makes the ideal group present, too. All participants can look for their favourite photographic memories together with the birthday boy or girl for a wonderful collage of their nickname, for example.
Good trick to use with strong colour differences: if the colours of the chosen photos are too busy, you can simply make an elegant black and white collage out of them. This way you get a great uniform result despite different photo setups.
3. Collage with letters as a souvenir: Whether after a family celebration, a farewell party or a weekender with a best friend: the photo collage with letters also makes an excellent souvenir of a special event. Here you can also become particularly original when designing your collage. Just use a good word joke, the name of a destination or a nice farewell or greeting.
4. Letter collage for an anniversary: The letter collage is also perfect for wedding or first-date anniversaries. You can immortalise beautiful memories with your partner photographically in the form of your initials, names or even with a beautiful heart in the middle.
Good solution when you only have a few photos: the initials version also works if you only have a few photos that match together. You can even use some photos multiple times. This is a good solution for the photo-shy and minimalists.
---
Customer reviews
Liv
Review in Morpeth
Product: Collage Verified purchase
Absolutely fab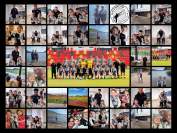 Valerie S.
Review in Nr Clitheroe
Product: Collage Verified purchase
excellent product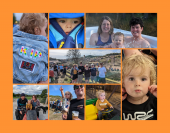 ---
Paul
Review in St Albans
Product: Collage Verified purchase
Excellent product, looks great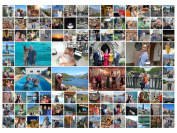 Jean
Review in Swansea
Product: Collage Verified purchase
The quality is superb, far better than similar ones I have seen. Precious memories captured forever in a unique way that is classy and top- drawer.

---
---
---
Further information
Collage Infos
Price
Delivery times
Information on the photo collage
More than 250 collage templates
Add custom text
2 to 100 photos in one collage
Print size up to 160 x 120 cm
Delivery in 48 hours
---
Available on the following products:
Canvas
Arylic glass
Alu-Dibond
Poster
Size
Canvas print
Acrylic glass
Alu-Dibond
Poster

XS

20 x 20 cm
£19.00
£19.00
£19.00
-

XS

30 x 20 cm
£39.00
£39.00
£39.00
£17.90

XS

30 x 30 cm
-
-
-
£19.90

XS

40 x 20 cm
£39.00
-
-
£19.90

XS

40 x 30 cm
£49.00
£49.00
£49.00
£19.90

XS

40 x 40 cm
-
£59.00
£59.00
£21.90

XS

45 x 30 cm
-
£59.00
£59.00
-

S

50 x 50 cm
£69.00
-
-
£24.90

S

60 x 20 cm
£49.00
-
-
£19.90

S

60 x 30 cm
£59.00
-
-
£19.90

S

60 x 40 cm
£69.00
£79.00
£79.00
£21.90

S

60 x 45 cm
£69.00
£79.00
£69.00
£23.90

S

60 x 60 cm
-
£89.00
£89.00
-

S

80 x 20 cm
£62.00
-
-
£19.90

S

80 x 40 cm
£74.00
-
-
£27.90

M

80 x 60 cm
£79.00
£89.00
£89.00
£36.90

M

80 x 80 cm
£89.00
£109.00
£109.00
£52.90

S

90 x 30 cm
£69.00
-
-
£26.90

M

90 x 60 cm
£89.00
£99.00
£99.00
£40.90

M

100 x 25 cm
£69.00
-
-
£26.90

M

100 x 50 cm
£87.00
-
-
£40.90

M

100 x 75 cm
£109.00
£179.00
£292.00
£53.90

L

100 x 100 cm
£119.00
£139.00
£139.00
£68.90

M

105 x 70 cm
£110.00
-
-
£50.90

M

120 x 30 cm
£77.00
-
-
£32.90

M

120 x 40 cm
£89.00
-
-
£35.90

M

120 x 60 cm
£103.00
-
-
£51.90

L

120 x 80 cm
£119.00
£149.00
£149.00
£74.90

L

120 x 90 cm
£119.00
£149.00
£149.00
£77.90

L

120 x 120 cm
£139.00
-
-
-

M

125 x 25 cm
£74.00
-
-
£29.90

M

140 x 35 cm
£89.00
-
-
£42.90

M

150 x 30 cm
£69.00
-
-
£38.90

L

150 x 50 cm
£105.00
-
-
£55.90

XL

150 x 100 cm
-
£309.00
-
-

M

160 x 30 cm
£85.00
-
-
-

L

160 x 40 cm
£97.00
-
-
£54.90

XL

160 x 120 cm
£169.00
-
-
-

L

175 x 35 cm
£99.00
-
-
£52.90

XL

180 x 60 cm
£129.00
-
-
£69.90

XL

200 x 40 cm
£109.00
-
-
£60.90

XL

200 x 50 cm
£119.00
-
-
£71.90

XL

210 x 70 cm
£149.00
-
-
-
When will your canvas be delivered:
TODAYOrder
now

Next Day*
EXPRESSdelivery
guaranteed

PRIO**delivery
expected

STANDARDdelivery
expected

Mon
Tue
Wed
Thurs
Fri
Sat
Sun
Mon
Tue
Wed
05
Dec.
06
Dec.
07
Dec.
08
Dec.
09
Dec.
10
Dec.
11
Dec.
12
Dec.
13
Dec.
14
Dec.
Order weekdays until 11 a.m.:
* Guaranteed delivery next working day
** Prioritised production and standard delivery
We deliver with:
---
Shipping to
| | Size | Next Day EXPRESS Upgrade | PRIO Upgrade | Delivery |
| --- | --- | --- | --- | --- |
| XS | 20 x 20 cm | £69.95 | £5.95 | £22.95 |
| XS | 30 x 20 cm | £69.95 | £5.95 | £22.95 |
| XS | 30 x 30 cm | £69.95 | £5.95 | £22.95 |
| XS | 40 x 20 cm | £69.95 | £5.95 | £22.95 |
| XS | 40 x 30 cm | £69.95 | £5.95 | £22.95 |
| XS | 40 x 40 cm | £69.95 | £5.95 | £22.95 |
| XS | 45 x 30 cm | £69.95 | £5.95 | £22.95 |
| S | 50 x 50 cm | £74.95 | £7.95 | £15.95 |
| S | 60 x 20 cm | £74.95 | £7.95 | £15.95 |
| S | 60 x 30 cm | £74.95 | £7.95 | £15.95 |
| S | 60 x 40 cm | £74.95 | £7.95 | £15.95 |
| S | 60 x 45 cm | £74.95 | £7.95 | £15.95 |
| S | 60 x 60 cm | £74.95 | £7.95 | £15.95 |
| S | 80 x 20 cm | £74.95 | £7.95 | £15.95 |
| S | 80 x 40 cm | £74.95 | £7.95 | £15.95 |
| M | 80 x 60 cm | £74.95 | £7.95 | £15.95 |
| M | 80 x 80 cm | £79.95 | £9.95 | £19.95 |
| S | 90 x 30 cm | £79.95 | £9.95 | £19.95 |
| M | 90 x 60 cm | £79.95 | £9.95 | £19.95 |
| M | 100 x 25 cm | £79.95 | £9.95 | £19.95 |
| M | 100 x 50 cm | £79.95 | £9.95 | £19.95 |
| M | 100 x 75 cm | £79.95 | £9.95 | £19.95 |
| L | 100 x 100 cm | £95.95 | £12.95 | £19.95 |
| M | 105 x 70 cm | £95.95 | £12.95 | £19.95 |
| M | 120 x 30 cm | £95.95 | £12.95 | £19.95 |
| M | 120 x 40 cm | £95.95 | £12.95 | £19.95 |
| M | 120 x 60 cm | £95.95 | £12.95 | £19.95 |
| L | 120 x 80 cm | £95.95 | £12.95 | £19.95 |
| L | 120 x 90 cm | £95.95 | £12.95 | £19.95 |
| L | 120 x 120 cm | - | £12.95 | £29.95 |
| M | 125 x 25 cm | - | £12.95 | £29.95 |
| M | 140 x 35 cm | - | £12.95 | £29.95 |
| M | 150 x 30 cm | - | £12.95 | £29.95 |
| L | 150 x 50 cm | - | £12.95 | £29.95 |
| XL | 150 x 100 cm | - | £12.95 | £29.95 |
| M | 160 x 30 cm | - | £12.95 | £29.95 |
| L | 160 x 40 cm | - | £12.95 | £29.95 |
| XL | 160 x 120 cm | - | £12.95 | £29.95 |
| L | 175 x 35 cm | - | £12.95 | £29.95 |
| XL | 180 x 60 cm | - | £12.95 | £29.95 |
| XL | 200 x 40 cm | - | £12.95 | £49.95 |
| XL | 200 x 50 cm | - | £12.95 | £49.95 |
| XL | 210 x 70 cm | - | £12.95 | £29.95 |

Shipping discount from 2nd product of same size
All Delivery times
---
---
This might also interest you