1. Upload photos

2. Create collage

3. Finished

---
Choose your template
---
---
---
Did you know? At 65%, the collage canvas is our most popular product.
---
---
Create collage
---
Did you know? 97% of our customers rate us with GOOD or VERY GOOD.
---
Canvas collage: gallery feeling for your home
Limited to fine galleries for the longest time, canvas printing has finally made it into our living rooms. An evergreen among canvas prints is the canvas collage. With its unique combination of the cheerful collage look and elegant gallery feeling, it enlivens every room.
It doesn't matter if you need it for your own home or as a gift for a loved one: with a canvas collage you'll have one of the highest quality photo prints available.
Create a canvas collage - How it works
If you want to create a canvas collage, the first step is always the selection of the images and the collage theme. You should make sure to use only high-quality photos. In addition, your photos should follow roughly the same colour scheme. This does not necessarily mean that all your photos must be the same in colour, but there should be no strong outliers in the light and dark extremes on individual images.
Such contrasts seem very dominant in the overall impression and attract the attention of the viewer, whereas canvas collages using individual photos come from a single photo shoot are particularly beautiful.
Once you have decided the direction in which you want your photo on canvas to go, you can choose one of 250 templates and will be forwarded directly to the corresponding collage grid. Here you can now upload your previously selected images. The autofill function ensures that the photos are automatically distributed in the grid. However, you can also move your pictures manually and rearrange them over and over again.
By the way, pre-editing your photos is usually not necessary. If you notice that some of your photos are upside down or need to be cropped, you can simply do this directly via the "Edit" field in the tool. When it's all done, you can finally view your finished canvas collage in its entirety in the preview version. If you still have time and want to try it out, this is just the right time to test our black and white filter or a few different background colours.
The right template for your photo collage on canvas
With our photo collage on canvas you have the free choice between 250 individual templates. There are some crucial differences between the number of photos and the designs of the collage types. So if your photo collage is to become something very special, it might be worth making a number collage, a letter collage or maybe even a heart-shaped collage out of it.
Of course, all our collage templates allow you an equally high level of personalisation and post-processing. However, especially for gift ideas, it may be worthwhile to make your photo collage as a canvas in a special shape and send an additional message to your favourite person. It is also important to ask yourself if you have one or two pictures that are especially important to you. In this case it is worth looking at our collage designs with a large image in the centre or with several differently sized image fields.
Tip for special collages: If you choose a collage design with numbers or letters, you have to be even stricter with the colour scheme than with the other grids.
With dynamic contours and a wider distribution on the background in particular, individual areas of contrast can be very noticeable and thus create an unwanted centre of focus. In the end, this also makes it difficult to read the word or the number.
With these 4 tricks, your photo canvas collage will be particularly successful
Take the leap to large formats: The canvas print is perfect for large photo collages and collage types. Although even small to medium-sized canvas photo collage can look very beautiful from close up, it is of course better for viewing at a distance if the image area is large.
This is particularly advantageous if you want to use many photos to create your collage. In addition, you can achieve a great, elegant effect with large canvas collages.
Clever use of text boxes: Many of our templates come with an additional text function. This also applies to the letter and number collages on canvas. So if you want to give your artwork a special dedication at the end, you have the necessary space for it here. Greetings, congratulations or quotes are also nice ideas. Of course, this is especially true if your canvas photo collage is intended as a gift.
Match background colour well: Just like the colour scheme of your shots, you should also match your background colour well to the occasion and the overall effect of the canvas collage. If you're unsure, it's advisable to try out a few shades. In case of doubt, however, your collage almost always looks best with a simple white background.
This will ensure that the photos are in the foreground and you are completely free in choosing where you hang it.
Alternatively, grey backgrounds are also suitable for many motifs. Sometimes, however, a black background can look unexpectedly good. This is especially true for canvas collages with delicate black and white photographs.
Black and white filters for more depth: If you prefer your canvas photo collage to be playful and lively, the variety of its colours will be very much part of the appeal. In some cases, however, using the black-and-white filter in a targeted manner can provide wonderful effects. Romantic, but also artistic and unusual motifs in particular benefit greatly in many cases from a lightly dramatic touch.
---
Customer reviews
Carole
Review in Ladybank
Product: Collage Verified purchase
It's a fabulous canvas collage. So clear and to easy to do. Great service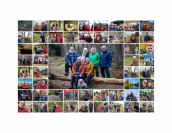 Hayley G.
Review in United Kingdom
Product: Collage Verified purchase
The print came out wonderfully. Very happy!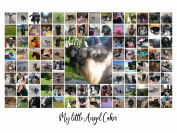 ---
Basia
Review in London
Product: Collage Verified purchase
Love the clarity of the photos

Niki
Review in BIRMINGHAM
Product: Collage Verified purchase
Brilliant!!! Excellent. Love it!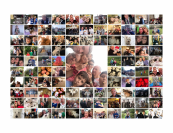 ---
---
---
Further information
Collage Infos
Price
Delivery times
Canvas information
Real canvas made of 100% cotton
Ready-to-hang on a wooden stretcher frame
Modern HP© printing technology
75 year colour guarantee
---
Information in detail
Original artist canvas made from 360 g/m² cotton with fine linen structure
Ready-to-hang, stretched on a real wood stretcher frame, delivered with 8 tensioning wedges
Modern direct printing with HEWLETT PACKARD© (HP – True Color Technology) on canvas
Two versions available: 2 cm standard stretcher and 4 cm gallery stretcher frame
PRIO production and EXPRESS delivery available
Eco-friendly: The product is made more than 99% from renewable raw materials
Size
RRP
Price
Choose size

XS

30 x 30 cm

£44.00

£54.00

select

XS

40 x 20 cm

£44.00

£54.00

select

XS

40 x 30 cm

£44.00

£54.00

select

XS

40 x 40 cm

£69.00

£79.00

select

XS

45 x 30 cm

£44.00

£54.00

select

S

60 x 20 cm

£44.00

£54.00

select

S

60 x 40 cm

£69.00

£79.00

select

S

60 x 45 cm

£69.00

£79.00

select

S

60 x 60 cm

£89.00

£79.00

£89.00

select

S

80 x 20 cm

£59.00

£66.00

select

S

80 x 40 cm

£89.00

£79.00

£89.00

select

M

80 x 60 cm

£99.00

£79.00

£89.00

select

M

80 x 80 cm

£119.00

£134.00

select

S

90 x 30 cm

£79.00

£69.00

£79.00

select

M

90 x 60 cm

£99.00

£89.00

£109.00

select

M

100 x 20 cm

£69.00

£78.00

select

M

100 x 25 cm

£79.00

£69.00

£81.00

select

M

100 x 75 cm

£119.00

£134.00

select

L

100 x 100 cm

£159.00

£174.00

select

M

105 x 70 cm

£119.00

£139.00

select

M

120 x 30 cm

£99.00

£111.00

select

M

120 x 40 cm

£99.00

£109.00

select

M

120 x 60 cm

£119.00

£135.00

select

L

120 x 80 cm

£159.00

£174.00

select

L

120 x 90 cm

£159.00

£174.00

select

M

125 x 25 cm

£99.00

£89.00

£101.00

select

M

150 x 30 cm

£119.00

£129.00

select
When will your canvas be delivered:
TODAYOrder
now

Next Day*
EXPRESSdelivery
guaranteed

PRIO**delivery
expected

STANDARDdelivery
expected

Wed
Thurs
Fri
Sat
Sun
Mon
Tue
Wed
Thurs
Fri
07
Jun.
08
Jun.
09
Jun.
10
Jun.
11
Jun.
12
Jun.
13
Jun.
14
Jun.
15
Jun.
16
Jun.
Order weekdays until 11 a.m.:
* Guaranteed delivery next working day
** Prioritised production and standard delivery
We deliver with:
---
Shipping to
| | Size | Next Day EXPRESS Upgrade | PRIO Upgrade | Delivery |
| --- | --- | --- | --- | --- |
| XS | 30 x 30 cm | £69.95 | £5.95 | £22.95 |
| XS | 40 x 20 cm | £69.95 | £5.95 | £22.95 |
| XS | 40 x 30 cm | £69.95 | £5.95 | £22.95 |
| XS | 40 x 40 cm | £69.95 | £5.95 | £22.95 |
| XS | 45 x 30 cm | £69.95 | £5.95 | £22.95 |
| S | 60 x 20 cm | £74.95 | £7.95 | £15.95 |
| S | 60 x 40 cm | £74.95 | £7.95 | £15.95 |
| S | 60 x 45 cm | £74.95 | £7.95 | £15.95 |
| S | 60 x 60 cm | £74.95 | £7.95 | £15.95 |
| S | 80 x 20 cm | £74.95 | £7.95 | £15.95 |
| S | 80 x 40 cm | £74.95 | £7.95 | £15.95 |
| M | 80 x 60 cm | £74.95 | £7.95 | £15.95 |
| M | 80 x 80 cm | £79.95 | £9.95 | £19.95 |
| S | 90 x 30 cm | £79.95 | £9.95 | £19.95 |
| M | 90 x 60 cm | £79.95 | £9.95 | £19.95 |
| M | 100 x 20 cm | £79.95 | £9.95 | £19.95 |
| M | 100 x 25 cm | £79.95 | £9.95 | £19.95 |
| M | 100 x 75 cm | £79.95 | £9.95 | £19.95 |
| L | 100 x 100 cm | £95.95 | £12.95 | £19.95 |
| M | 105 x 70 cm | £95.95 | £12.95 | £19.95 |
| M | 120 x 30 cm | £95.95 | £12.95 | £19.95 |
| M | 120 x 40 cm | £95.95 | £12.95 | £19.95 |
| M | 120 x 60 cm | £95.95 | £12.95 | £19.95 |
| L | 120 x 80 cm | £95.95 | £12.95 | £19.95 |
| L | 120 x 90 cm | £95.95 | £12.95 | £19.95 |
| M | 125 x 25 cm | - | £12.95 | £29.95 |
| M | 150 x 30 cm | - | £12.95 | £29.95 |

Shipping discount from 2nd product of same size
All Delivery times
---
---
Collage canvas prints – This is how it works:
Choose your photos for the collage canvas. Upload your photos into your chosen template.
Rearrange the photos until you are happy with where they are. Important: All photos can also be edited online.
Happy with your collage? Then you can have your finished collage printed on to canvas. Simply select the size you want and order – done! (Standard delivery in approx. 3 work days)
---
This might also interest you