1. Upload photos

2. Create collage

3. Order

---
Choose your Number Collage template
---
Did you know? We also offer heart-shaped collages.
---
---
Create collage
---
---
Create a photo collage as a number - a photo gift for memorable events
With a photo collage you always tell a story. What this story is about is, of course, determined primarily by the images it contains. Shared holidays, weddings, birthdays or celebrations can be wonderfully combined into larger photo series.
But it doesn't have to end there: if you design your photo collage as a number, you not only give it a beautiful outer structure, but also supplement its meaning. With a number collage you have the perfect gift for memorable occasions and special memories.
How to create your first number collage
The easiest way to create your number collage is to roughly work out in advance how many photos you want to use for it. If you have many photos that you want to include, you should click on "Many pictures". You can then enter your number or sequence of numbers before being forwarded to the collage generator.
Important note: You cannot enter punctuation marks such as dot and comma in the number collage. The reason for this is that these small characters usually don't have enough space to fill them with photos.
Once you have clicked through to the collage generator, it's time to upload your photos. Depending on whether you want to use just a few or many images, the individual photos in the number collage will be larger or smaller.
To make your collage look attractive and tidy both from a distance and from close up, you should be careful to use as full-frame and high-quality photos as far as possible. It's best to decide on a specific colour scheme for this. This way you make sure that the photos will all harmonise well together.
Tip for experimental photo artists: Play around a little with the black and white filter. In particular, year numbers or memorable events from the past can be given an additional historical touch by using the black-and-white combination.
If you find during the upload that you don't have enough individual photos for the larger number collage, you can also simply upload some photos twice. This brings a little more harmony to dynamic motifs in particular, and often even provides an exciting recognition effect for the viewer.
Once you have all the images together, you can see what your collage looks like now in the preview function. If you don't like something, you can simply switch back to the tool and move the pictures around as you like or even swap them out for an alternative.
3 perfect occasions for photo collage as a number
1. Birthdays: Sometimes the most obvious ideas are also the best – and so it is with the birthday photo collage as a number. It's perfect as a birthday present of course! Round birthdays in particular are of great significance and can be celebrated perfectly in the form of a number collage. For birthdays it is especially nice if you use photos of the recipient from different phases of their life for your collage. Using some pictures of you together will only make it even more beautiful.
2. Special years: You can also use your photo collage as a number for a longer sequence of numbers. For example, you could reproduce the year 2020 in photos and capture all the beautiful memories. This option also works very well for the birth years of babies, graduation years or, in a professional context, even for financial years. However, if you want to use several numbers as the basis for your number photo collage, it's important to make sure you have enough images for a multifaceted effect.
3. Anniversaries: Exactly! Anniversaries are also great occasions to have a photo collage printed as a number! After all, this is also about celebrating and honouring an important time together. Similar to birthday collages, it's a great idea to combine photos from different life stages. You could use either the start year of a period as a basis or the number of previous years.
Of course, you can also make your decision based on your photo selection: if you have many pictures, go with the year and if you have less material, simply go with the number of years.
Did you know: If you have planned your collage as a group gift, you can even invite a friend to edit it together with you! Simply use the "Invite Friend" field to add their email address. It is best to write a short note to them and decide whether they should only add pictures or edit the collage.
Here's how to make your collage as a number an absolute hit!
Choose your photo medium well: When you've nothing else planned, all our number collages come as fast and uncomplicated poster-prints. The advantage of this is not only the high efficiency, but of course also the unbeatable price. Nevertheless, it is definitely worth considering a collage print on canvas. Canvas has been one of the highest quality image mediums for many decades. So if you want to give your collage as a number an exclusive touch, you can achieve wonderful gallery effects with a canvas print.
Set background colour: In particular, we recommend that collage novices choose a simple and restrained background. Although the temptation is great to bring a little more pep into your artwork with pink or green, you should always opt for black, white or grey in case of doubt. The only exception, of course, is the black-and-white collage. Here you can play around with different backgrounds and thus create a surprising and individual look.
Use the text box cleverly: A collage as a number is pretty cool. But sometimes you might want to convey an additional message. That's why all our number collages have a separate text box at the bottom. Here you can place a dedication, a quote, a greeting or your message of congratulations. Tip for couples: If you want to give the collage to your partner, the text box would also be a very good place for your names or initials!
---
---
Customer reviews
Paul
Review in St Albans
Product: Collage Verified purchase
Excellent product, looks great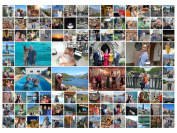 Jean
Review in Swansea
Product: Collage Verified purchase
The quality is superb, far better than similar ones I have seen. Precious memories captured forever in a unique way that is classy and top- drawer.

---
Richard
Review in Burton on Trent
Product: Collage Verified purchase
Easy software to use, great collage options great prints and speedy service. 100% recommended

Richard
Review in Bridgwater
Product: Collage Verified purchase
Top quality product very pleased with the print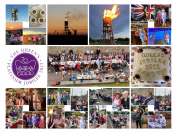 ---
---
---
Further information
Collage Infos
Price
Delivery times
Information on the photo collage
More than 250 collage templates
Add custom text
2 to 100 photos in one collage
Print size up to 160 x 120 cm
Delivery in 48 hours
---
Available on the following products:
Canvas
Arylic glass
Alu-Dibond
Poster
Size
Canvas print
Acrylic glass
Alu-Dibond
Poster

XS

20 x 20 cm
£19.00
£19.00
£19.00
-

XS

30 x 20 cm
£39.00
£39.00
£39.00
£17.90

XS

30 x 30 cm
-
-
-
£19.90

XS

40 x 20 cm
£39.00
-
-
£19.90

XS

40 x 30 cm
£49.00
£49.00
£49.00
£19.90

XS

40 x 40 cm
-
£59.00
£59.00
£21.90

XS

45 x 30 cm
-
£59.00
£59.00
-

S

50 x 50 cm
£69.00
-
-
£24.90

S

60 x 20 cm
£49.00
-
-
£19.90

S

60 x 30 cm
£59.00
-
-
£19.90

S

60 x 40 cm
£69.00
£79.00
£79.00
£21.90

S

60 x 45 cm
£69.00
£79.00
£69.00
£23.90

S

60 x 60 cm
-
£89.00
£89.00
-

S

80 x 20 cm
£62.00
-
-
£19.90

S

80 x 40 cm
£74.00
-
-
£27.90

M

80 x 60 cm
£79.00
£89.00
£89.00
£36.90

M

80 x 80 cm
£89.00
£109.00
£109.00
£52.90

S

90 x 30 cm
£69.00
-
-
£26.90

M

90 x 60 cm
£89.00
£99.00
£99.00
£40.90

M

100 x 25 cm
£69.00
-
-
£26.90

M

100 x 50 cm
£87.00
-
-
£40.90

M

100 x 75 cm
£109.00
£179.00
£292.00
£53.90

L

100 x 100 cm
£119.00
£139.00
£139.00
£68.90

M

105 x 70 cm
£110.00
-
-
£50.90

M

120 x 30 cm
£77.00
-
-
£32.90

M

120 x 40 cm
£89.00
-
-
£35.90

M

120 x 60 cm
£103.00
-
-
£51.90

L

120 x 80 cm
£119.00
£149.00
£149.00
£74.90

L

120 x 90 cm
£119.00
£149.00
£149.00
£77.90

L

120 x 120 cm
£139.00
-
-
-

M

125 x 25 cm
£74.00
-
-
£29.90

M

140 x 35 cm
£89.00
-
-
£42.90

M

150 x 30 cm
£69.00
-
-
£38.90

L

150 x 50 cm
£105.00
-
-
£55.90

XL

150 x 100 cm
-
£309.00
-
-

M

160 x 30 cm
£85.00
-
-
-

L

160 x 40 cm
£97.00
-
-
£54.90

XL

160 x 120 cm
£169.00
-
-
-

L

175 x 35 cm
£99.00
-
-
£52.90

XL

180 x 60 cm
£129.00
-
-
£69.90

XL

200 x 40 cm
£109.00
-
-
£60.90

XL

200 x 50 cm
£119.00
-
-
£71.90

XL

210 x 70 cm
£149.00
-
-
-
When will your canvas be delivered:
TODAYOrder
now

Next Day*
EXPRESSdelivery
guaranteed

PRIO**delivery
expected

Thurs
Fri
Sat
Sun
Mon
Tue
Wed
Thurs
Fri
Sat
06
Oct.
07
Oct.
08
Oct.
09
Oct.
10
Oct.
11
Oct.
12
Oct.
13
Oct.
14
Oct.
15
Oct.
Order weekdays until 11 a.m.:
* Guaranteed delivery next working day
** Prioritised production and standard delivery
We deliver with:
---
Shipping to
| | Size | Next Day EXPRESS Upgrade | PRIO Upgrade | Delivery |
| --- | --- | --- | --- | --- |
| XS | 20 x 20 cm | £69.95 | £5.95 | £22.95 |
| XS | 30 x 20 cm | £69.95 | £5.95 | £22.95 |
| XS | 30 x 30 cm | £69.95 | £5.95 | £22.95 |
| XS | 40 x 20 cm | £69.95 | £5.95 | £22.95 |
| XS | 40 x 30 cm | £69.95 | £5.95 | £22.95 |
| XS | 40 x 40 cm | £69.95 | £5.95 | £22.95 |
| XS | 45 x 30 cm | £69.95 | £5.95 | £22.95 |
| S | 50 x 50 cm | £74.95 | £7.95 | £15.95 |
| S | 60 x 20 cm | £74.95 | £7.95 | £15.95 |
| S | 60 x 30 cm | £74.95 | £7.95 | £15.95 |
| S | 60 x 40 cm | £74.95 | £7.95 | £15.95 |
| S | 60 x 45 cm | £74.95 | £7.95 | £15.95 |
| S | 60 x 60 cm | £74.95 | £7.95 | £15.95 |
| S | 80 x 20 cm | £74.95 | £7.95 | £15.95 |
| S | 80 x 40 cm | £74.95 | £7.95 | £15.95 |
| M | 80 x 60 cm | £74.95 | £7.95 | £15.95 |
| M | 80 x 80 cm | £79.95 | £9.95 | £19.95 |
| S | 90 x 30 cm | £79.95 | £9.95 | £19.95 |
| M | 90 x 60 cm | £79.95 | £9.95 | £19.95 |
| M | 100 x 25 cm | £79.95 | £9.95 | £19.95 |
| M | 100 x 50 cm | £79.95 | £9.95 | £19.95 |
| M | 100 x 75 cm | £79.95 | £9.95 | £19.95 |
| L | 100 x 100 cm | £95.95 | £12.95 | £19.95 |
| M | 105 x 70 cm | £95.95 | £12.95 | £19.95 |
| M | 120 x 30 cm | £95.95 | £12.95 | £19.95 |
| M | 120 x 40 cm | £95.95 | £12.95 | £19.95 |
| M | 120 x 60 cm | £95.95 | £12.95 | £19.95 |
| L | 120 x 80 cm | £95.95 | £12.95 | £19.95 |
| L | 120 x 90 cm | £95.95 | £12.95 | £19.95 |
| L | 120 x 120 cm | - | £12.95 | £29.95 |
| M | 125 x 25 cm | - | £12.95 | £29.95 |
| M | 140 x 35 cm | - | £12.95 | £29.95 |
| M | 150 x 30 cm | - | £12.95 | £29.95 |
| L | 150 x 50 cm | - | £12.95 | £29.95 |
| XL | 150 x 100 cm | - | £12.95 | £29.95 |
| M | 160 x 30 cm | - | £12.95 | £29.95 |
| L | 160 x 40 cm | - | £12.95 | £29.95 |
| XL | 160 x 120 cm | - | £12.95 | £29.95 |
| L | 175 x 35 cm | - | £12.95 | £29.95 |
| XL | 180 x 60 cm | - | £12.95 | £29.95 |
| XL | 200 x 40 cm | - | £12.95 | £49.95 |
| XL | 200 x 50 cm | - | £12.95 | £49.95 |
| XL | 210 x 70 cm | - | £12.95 | £29.95 |

Shipping discount from 2nd product of same size
All Delivery times
---
---
This might also interest you